The best meditation apps can help you sleep better, reduce your stress levels, and find much-needed inner peace. Given the current context with the circulation of the Covid-19 virus and the need for restrictive measures to contain it, even if these meditation applications only give you a window of ten minutes of relaxation, they are clearly worth it.
Headspace, one of the most popular meditation apps, was launched ten years ago. Since then, hundreds of other similar applications have been developed, which makes the selection of the most effective much more difficult today. Because each meditation application is aimed at a specific audience and level of knowledge. These range from applications for beginners that introduce you to the basics of meditation (such as Headspace and Buddhify), to those that provide you with essential tools to manage your own meditation practice (such as Samsara Timer and Pocket Meditation Timer).
What is mindfulness meditation?
One concept has gained popularity and practice in recent years among all existing types of meditation: mindfulness meditation. It's easy to roll your eyes to this emphatic expression. We've all been flooded with books, articles, and apps to work with and maximize your focus. In reality, however, it is difficult to achieve a concrete result.
And for a good reason, too. This doesn't mean, contrary to popular belief, that you need to clear your mind. Rather, it means paying more attention to it. Whether it's your thoughts, your breath, or the sounds that surround you. Daily practice allows you to improve your concentration on all your activities: athletic, domestic, school or professional.
Scientific studies on meditation are still in their infancy. We cannot therefore say with certainty that meditation works for everyone and brings the same benefits to each individual. But, it would already show some effects on the body. Meditation would lower blood pressure, improve sleep, relieve some of the symptoms of depression, reduce stress, and boost self-esteem, while boosting memory and the immune system.
With all of that in mind, here is our selection of the best meditation apps available today. We have used and tested them all, they are all valuable tools to help you de-stress.
1. Waking Up
For those who want to get to the basics.
Waking up was created by Sam Harris, a podcasting philosopher who defends the interest of meditation with the scientific community. What we like most about the Waking Up app is that it is simple and concise. There are no songs, spiritual and motivational speeches, sparkling rain sounds and other ASMR content. The interface itself is very easy to navigate, thanks to its minimal design.
The goal here is appeasement. We have been using Waking Up for over a year and have found that it makes a huge difference, especially in reducing daily stress levels.
The application has two sections. The "Practice" section allows you to access basic meditation lessons, told by Sam Harris, such as acquiring easy immobile postures. The "Theory" section completes your exercises by providing testimonials from many personalities on meditation, personal development and awareness. This second part is of course optional and you can settle for the first, to help you perfect your concentration.
Price: free. In-app purchases are present and unlock certain optional content.
2. Headspace
The best coach for beginners.
Headspace is one of the most popular meditation apps – and deserves its reputation. We started meditating with Headspace over six years ago and it was the program that most easily introduced us to meditation. Thanks to his advice, we quickly forgot the obstacles that can arise during the beginnings of the practice: how to sit still without moving? How not to get lost in thought? And come back if necessary? How to make distraction a force?
Easy to handle, full of colors, the interface of Headspace is filled with simple instructions with a soothing voice to accompany you. One of the best aspects of the application is the variety of meditative practices to try, in all kinds of situations. Whether it is mindfulness practice, meditation suitable for children, sleep exercises.
Price: free. But with optional purchases to unlock more content.
3. Calm
A large base of exercises and relaxing content.
When you launch the Calm app for the first time, it asks you to take a deep breath and this is what you will keep during each session spent on the service: a good breath of fresh air. Because Calm adapts to your needs above all, you choose the program that meets your expectations: develop your ability to concentrate, reduce stress or relax for a few minutes.
The application has a wide variety of relaxation sessions as well as soothing sounds, composed by big names in contemplative music, such as Sigur Ros. You should also try the " Sleeping Stories " which will help you sleep like a baby. They are told by famous soothing voices, like that of Matthew McConaughey.
If you don't want to be guided, Calm provides you with a timer and a huge catalog of music, sounds and background sounds to personalize your own meditation sessions.
We think there are better apps for teaching you the basics of meditation (like the two mentioned above), but Calm offers the widest selection of tools to help you with a little more meditation.
Price: Calm offers a 7-day free trial. The subscription is then billed at € 49.99 per year.
4, Buddhify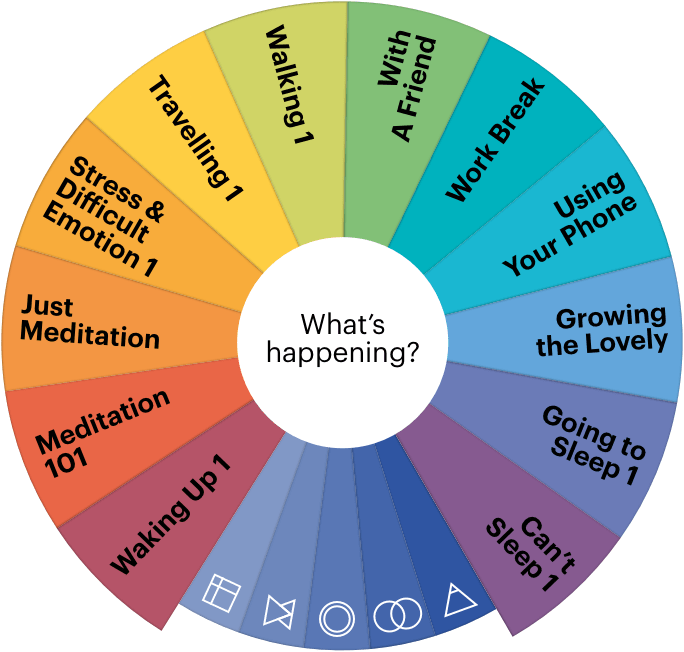 Your new superpower: controlling time.
Even if we are creatures prowled at their daily routine and their comfort zone, many of us do not always want to meditate in the same way. This is where "Buddhization" comes in. Sometimes you can just take your time during an evasive session, other times you need to advance the time by thinking of something else, when you are waiting at the doctor or queuing at La Poste for example.
Where Buddhify is smart is that instead of asking you to focus (because often we do not know how to do it, especially if we are stressed), the application provides you with a number of scenarios on a "wheel of fortune". Turn it and let yourself be guided by the situations that are randomly described to you.
Our recommendation would be to start your meditative journey with Headspace or Waking Up and then complete your practice with Buddhify. If you are not one of those who needs a quiet room, incense, a comfortable carpet and cushion, or any other ritual to relax.
Price: € 2.99
5. Insight Timer
Meditation kit.
Just like Calm, Insight Timer is an application that offers many guided meditation practices, lessons and customizable features.
A range of content per level is offered to you from the launch of Insight Timer. You can choose the beginners pack, which includes several sessions of meditation training or anxiety management. You can also choose a specific theme, such as sleep or stress control. You can also determine the sounds and videos that will accompany you, but also tutorials to learn and perfect your favorite movements.
If you are a novice, we advise you to follow the introductory 7-day program which will teach you the basics. Once acquired, Insight Timer will become a perfect companion to meditate at your own pace and wherever you want.
Price: free. With optional purchases delivering more lessons.