If you are looking to manage photos on Android and organize your gallery in a comfortable way for you, these applications will give you the necessary functions for it.
It is usual that we end up accumulating a large number of photos on our Android phone . One of the consequences of having many photos is that the gallery is not well organized, making it sometimes difficult to find the image we are looking for. To have a well-organized gallery on our mobile we can use many applications.
There are applications on Android designed to manage photos efficiently. Thanks to them we can have our gallery well organized, being able to create albums to our liking to have the desired organization in said photo gallery. These applications below give us the necessary functions to organize the gallery.
Picture Manager
Picture Manager is an ideal application to manage photos on Android, This application has two main functions: to organize our photos in the best possible way and to help us eliminate duplicate photos stored in the phone. So we will have a well organized gallery at all times.
The application allows us to organize the photos the way we want, offering various criteria to choose from, so that we have the photos in folders, either based on the date or another criterion. This allows a comfortable division and that we can find the photos quickly. In addition, it allows to rename folders or photos at any time, even being possible to rename entire groups of photos. It not only allows you to organize folders, since we also have various methods to manage photos.
Picture Manager can be downloaded free of charge on Android. To have access to some of its functions, you have to resort to the premium version, which can be obtained by paying any of these amounts: € 1.79; € 2.99; € 4.79 and € 6.49, is more like a donation, to have this version with its support. It is a good app, although its interface could improve since it is not the most intuitive in terms of use.
Download Picture Manager: Rename and Organize with EXIF
F-Stop Gallery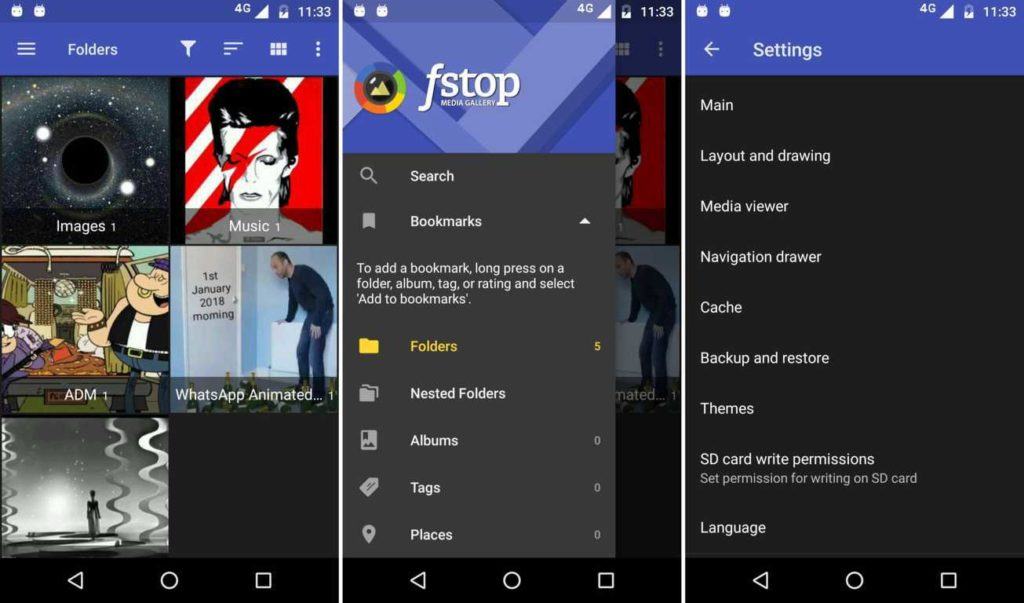 This application is one of the complete ones when it comes to managing photos on Android. It will allow you to have all the photos in your gallery well organized , being able to create albums in the way you see fit. Although you can also make the app create albums based on various criteria, such as dates, the place where those photos were taken or the camera with which they were taken (in case you use the phone and a camera or other mobile). Also noteworthy is its search engine, which allows very precise searches.
Being able to create folders and subfolders in the application gives many possibilities in terms of organization. Also, F-Stop Gallery has a great design, based on Material Design, so using it is really easy. Although its design is simple, it has a huge number of functions available (create labels, protect photos and videos with a password, support for various formats, customizable design …).
F-Stop Gallery can be downloaded for free on Android . Many of the most interesting functions of the application are available in its Pro version, which has a price of 4.49 euros. You can try the free version and see if this application for managing photos on Android convinces you and if it is the one you are looking for, go in a moment to the paid one, to have more functions.
1Gallery
1Gallery an application which we told you about a few months ago, which stands out above all by its good management of privacy. It allows us to create secure albums, which are password protected so that we can save photos that we don't want others to see in this album. The creation of such albums is very easy thanks to the very simple interface of this application. In these secure albums, all files are encrypted, for added protection and privacy.
1Gallery also allows us to easily manage photos. We can create new albums or delete one of the existing albums, so that everything is organized as we wish, thus creating our own system and having a more personalized organization. The application also has an integrated photo editor, which allows you to make some simple settings for editing photos or videos (filters, press clippings, orientation…).
This application to manage photos can be downloaded for free on Android . There is a premium version that gives a series of additional functions available, with a price of 1.89 euros for the annual subscription or 3.29 to have it for life. It can be downloaded at this link:
Download 1Gallery: Photo Gallery & Safe (ENCRYPTED)
Simple Gallery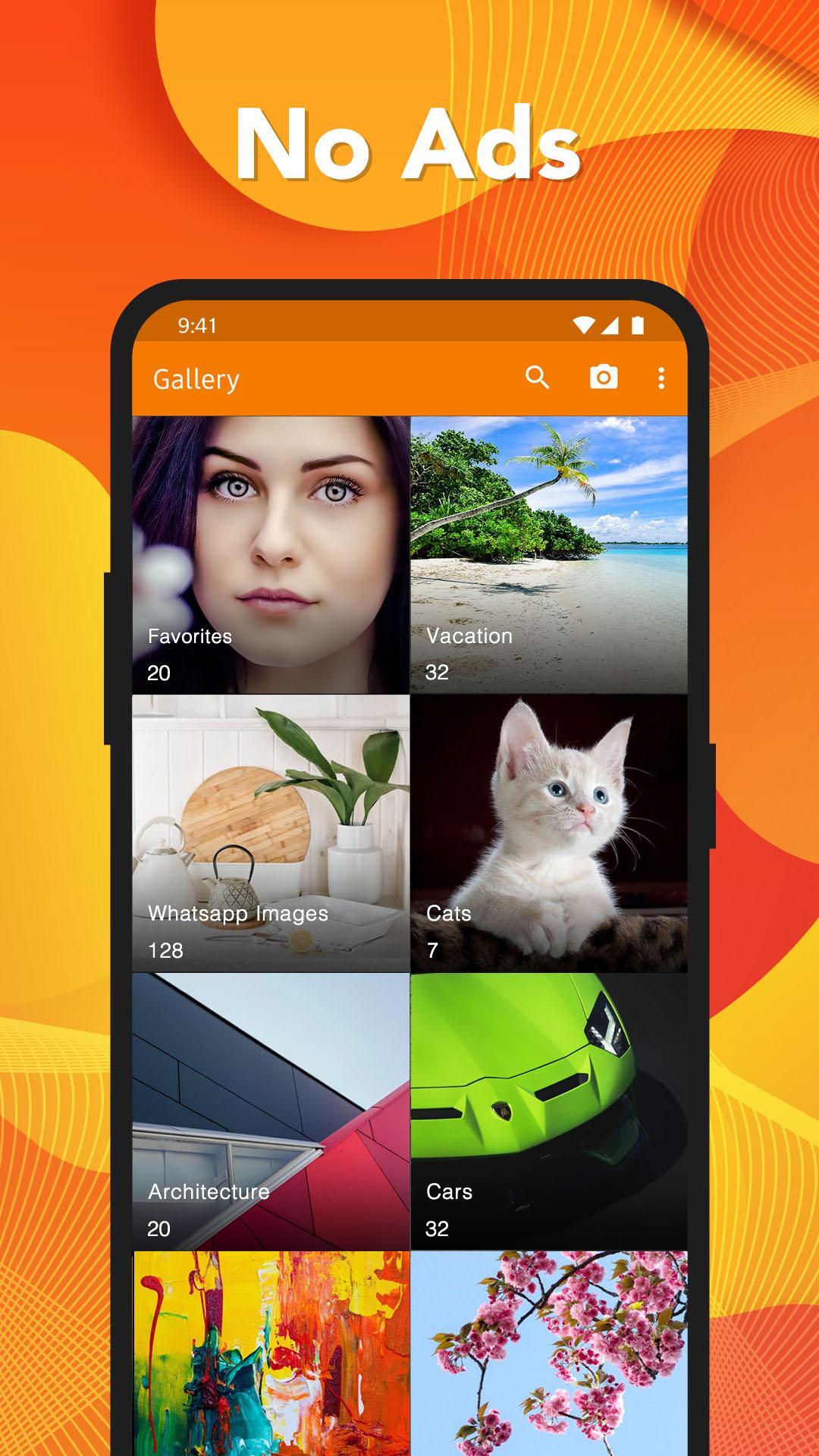 Another good app for managing photos on Android is the Simple Gallery. As its name suggests, it is an application with a very easy to use interface, very simple, which helps to make it very easy to organize the photos that we have accumulated on the phone. Perhaps this is the great advantage of this application, even if it works very well in terms of functions.
We have the ability to organize photos into folders and albums, there is an integrated photo editor, we can access hidden folders, it supports formats such as RAW or SVG and it even has its own recycle bin. In the paid version of the app, there are a number of additional features, such as fingerprint protection, for added security and privacy. Although it is a simple application, it offers us many possibilities, and it is also highly customizable in terms of functions and interface.
The app can be downloaded for free on Android. There are no ads or purchases inside, although, as we said before, for some of its functions you have to go to the Pro version of the app. This version has guaranteed support and costs just $ 0.69, so this can be a good option for many to consider.
Download Simple Gallery – Photo editor and manager
Gallery Go
An old acquaintance, which is presented as a good option for Android users. This application stands out for its simple design and for the ease it has to manage and organize photos, which is what makes its use especially comfortable. It has the ability to automatically organize your photos based on various criteria (people, selfies, places, videos, etc.) so we will have our gallery well organized.
It is an app that works both online and offline, so it allows you to save photos to the cloud, but we can also use it without the cloud. In the application there is a photo editor, where we can make a series of simple adjustments (cuts, filters and others), in order to edit the photos that do not convince you.
Gallery Go is a good option to keep in mind since it will allow you to have the photos well organized on your phone. Its simple interface and the one with a dark mode can make it more interesting for many, and you can use it as the default gallery. Like all Google applications, its download on Android is free, available on the Play Store: