The Realme X3 SuperZoom will appeal to those familiar with budget smartphones. Despite its reasonable price, it delivers performance worthy of very good mid-range smartphones. Its camera is less convincing than expected, but its fluidity and autonomy catches up with the total score.
The Realme X3 SuperZoom is the kind of phone that seems to meet the demands of a large audience – namely to get an affordable and balanced premium product. The prices of smartphones, which are on the rise everywhere, also do him a great service. The year 2020 is indeed particularly expensive for Android smartphones, one of the main factors of this situation being the inflation of the price of components.
With the X3 series, Realme is taking on both this year's high-end smartphones but also last year's spearheads, which have now come down at lower prices. The brand is starting to make its hole in this market for devices at more affordable prices. However, its inexperience in some areas becomes evident with use.
The name of this phone follows the new nomenclature of Realme. The X3 Pro SuperZoom is technically the successor to the 2019 Realme X2 Pro and not the X2. In addition, the Realme X3 and the Realme X3 SuperZoom stand out in two areas: a periscope telephoto lens and a better resolution front camera on the second. Therefore, most of our observations below will apply to both devices.
Realme X3 SuperZoom price and availability
From 499 €
Available since June 22, 2020
One configuration: 12 GB of RAM + 256 GB of storage
The Realme X3 SuperZoom was launched in France on June 22. Its price is 499 € for its only variant with 12 GB of RAM and 256 GB of storage. The device is available at some retailers as well as on the official website of the Realme brand.
Realme X3 SuperZoom design
Glass back
Weight: 202 g
Two colors: Artic White (white) and Glacier Blue (blue)
Realme smartphones have been in need of a design overhaul for a long time. Almost all of the brand's devices, regardless of price, follow the same design and are increasingly difficult to tell apart. At the very least, for flagship models, we'd like the phones to have a little more personality. 
Read: Realme 6i, review: a competitive entry line with a stratospheric battery
If you look at it objectively, here we have a familiar design with a curved glass back and a large display on the front. It's one of the more compact devices – for a relatively large screen – and its weight seems well distributed. That said, it doesn't look very "high end" once in hand. The back seems a little hollow and the frame of the phone is not very reassuring either. In fact, even old budget smartphones from Realme feel much better in the hand.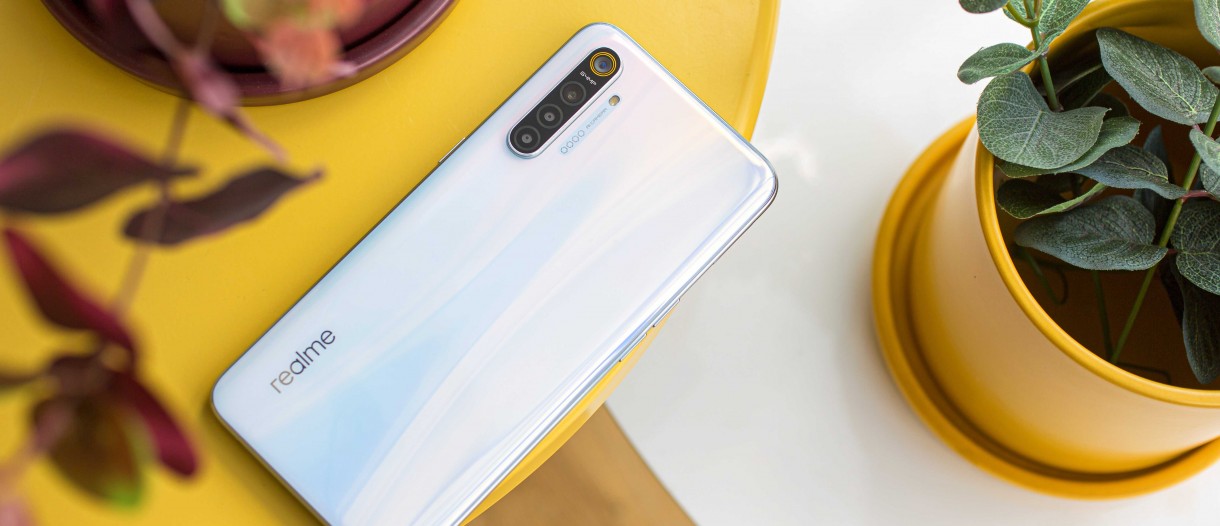 There is a significant bump on the back, imposed by the photo module, causing the phone to pitch when placed on a table. Its use then becomes difficult, typing a few words on it is a perilous balancing act. But if you consider the on-board lenses, it's an acceptable compromise. The supplied silicone shell also solves this tipping problem.
The blue variant we tested has a glossy glass back with a light / dark gradient. It's very aesthetic and the color almost takes on an emerald tint under certain lighting conditions.
The main speaker is at the bottom of the phone, with the power button / fingerprint sensor on the right. The volume controls are on the left. These are placed almost in the center of the frame and are easy to reach without too much manual gymnastics.
The design of the Realme X3 SuperZoom remains quite conservative and discreet. It won't blow your mind or immediately make you feel like you own an expensive product – making the cost reduction obvious. We believe that the Arctic White variant, with its matte finish, however, performs better than our test model Glacier Blue.
Realme X3 SuperZoom screen
A 6.6-inch LCD panel
120Hz refresh rate
Gorilla Glass 5 resistance
It is with this element that things start to get interesting. Realme's new smartphone makes the jump to a 120Hz refresh rate. We believe all high-end smartphones should offer this option in 2020, and we're happy to see that the X3 SuperZoom does. Better yet, the components and firmware here are pretty well configured to – almost – always run at a speed of 120 fps.
But there is a quid pro quo for this gem: going back to an LCD screen. It is technologically and economically difficult to marry high refresh rates and OLED panels. And even more to do it with precision while maintaining brightness levels. For most users, this tradeoff is worth it, as a 120Hz display has a much bigger impact on the user experience than the screen definition itself.
It is also one of the best LCD screens we have come across recently, with vivid and perfectly reproduced colors, good contrast and pleasant sharpness. It's only when you're watching mostly dark content that you will start to miss the OLED screen.
You can enable the OSIE (Object and Semantic Images and Eye-tracking) option which increases the dynamic range and color fidelity of your content. However, the contribution of this mode did not seem significant enough to us.
The edges of the screen are a little thicker – one of the weaknesses of LCD panels – but they remain reasonably thin with a ratio between the screen area and the body of the smartphone which is intended to be slightly above 90%. .
The key factor in this evolution is the new hole in the screen that houses two frontal lenses. Combined with the large 20: 9 aspect ratio, this makes for a pretty immersive screen. However, it finds itself weakened by a peak brightness of just 480 nits. Watching it under the sun can therefore sometimes be a problem.
Unfortunately (again), the Realme X3 SuperZoom screen lacks responsiveness on extremely tactile applications like Instagram, Snapchat or even games with nervous gameplay such as PUBG. Sometimes you have to double-tap the screen to record an action. Such a significant delay in response really separates it from the high-end category.
Hopefully this latency will be corrected in a future update. Overall, however, we were quite impressed with the display of the X3 SuperZoom which provides a pleasant day-to-day viewing experience.
Realme X3 SuperZoom audio quality
Single speaker at the bottom
No jack
Supports Dolby Atmos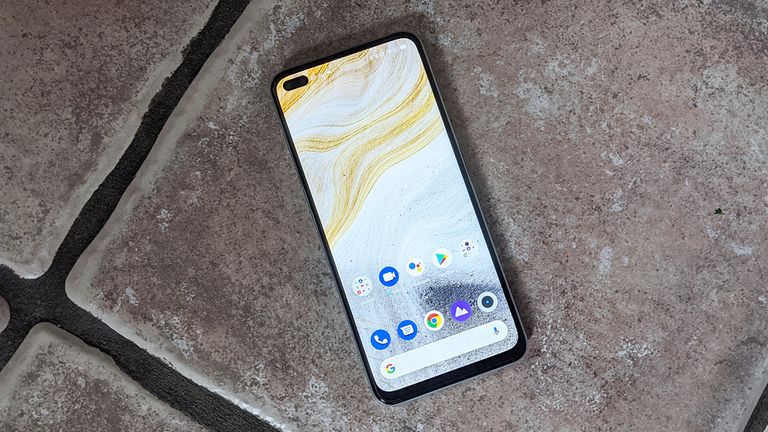 As mentioned earlier, the Realme X3 SuperZoom has a single speaker at the bottom of the phone. We therefore expect the sound of it to be decidedly muffled if we put our hands on it. The output volume is also pretty average, and you'll often end up putting your hand around the speaker to direct the sound in your direction, if your surroundings prove to be too noisy. This is a 12mm x 16mm speaker that supports Dolby Atmos and high resolution audio standards. The sound quality is excellent, with very little distortion.
There is no jack here, but audio playback through the USB Type-C port is possible and enjoyable. As for the use of Bluetooth to listen to your content through wireless headphones and earphones, it is in a nutshell: admirable.
Realme X3 SuperZoom's Performances
Driven by Snapdragon 855 Plus
UFS 3.0 storage
LPDDR4X RAM
Unlike most high-end smartphones of 2020, the Realme X3 SuperZoom opts for the Snapdragon 855 Plus processor which dates from late last year. This decision is an understandable choice for a device that wants to be affordable and does not necessarily want to raise its price because of 5G components favored by recent models. We are even surprised that there aren't more manufacturers who have used this approach. It also gives the brand a boost in optimizing and tuning its other components to provide a better end user experience.
As a reminder, the Snapdragon 855 Plus is a 7nm chip with eight cores and a maximum frequency of 2.96 Ghz. It is associated with the Adreno 640 graphics processor, a UFS 3.0 storage unit and LPDDR4X RAM.
For most users, this CPU downgrade won't be noticed at all, as it is still one of the most powerful chips on the market. This is, by the way, not very far from the latest Qualcomm in terms of processing power. Daily use, multitasking or even consumption and content creation will not be a problem here.
Network connectivity and Wi-Fi reception are also excellent on this device.
The Realme X3 SuperZoom, a gaming smartphone?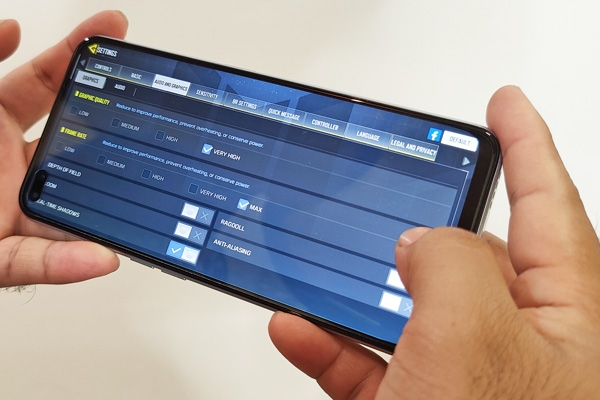 One of the places where the difference between a mid-range processor and a high-end processor is felt is during long gaming sessions. Again, the Realme X3 SuperZoom is able to run almost full throttle on. most titles. PUBG Mobile can be played at over 55 fps at the lowest settings, and the switch to HDR graphics didn't alter that much. The top half of the phone got a bit warm, but nothing alarming or uncomfortable.
Realme also offers a gaming space to manage all your titles from one place, where you can set your performance and network preferences and even monitor your stats. It can even be triggered while you're playing a particular title by simply swiping it from one of the top corners of the phone. This to give you quick access to the current status of the phone, its temperature, its frame rate, the use of its processors, etc … It is a very complete tool that will undoubtedly appeal to people for whom gaming specs matter a lot.
What are the best gaming smartphones at the moment?
Realme X3 SuperZoom interface
Realme UI on Color OS 7
Many customization options
The Realme X3 SuperZoom runs Realme UI 1.0 on Color OS 7.0 overlaying Android 10. Color OS has been massively improved with this new version, making it one of the most feature-rich versions of Android.
It's no longer a bunch of complicated, childish design options, this version has been revised and watered down to be more enjoyable. It now offers many features and customization options. A dark mode for the entire system has appeared, as well as an application drawer. Besides the split screen, floating bubbles can now be used for messaging apps. One of our favorite features is the ability to take screenshots by dragging three fingers down on the screen, but also being able to change the dimensions of the capture with a long press. 
Other elements like the style and shape of the icons can also be changed. Animations and transitions also seem to have adapted well to the new refresh rate. The action center can now be swiped to the home screen, making it easier to use with one hand.
Overall, Realme UI is a very balanced software overlay. You can either adapt it to get closer to Android to its purest essence or on the contrary fill it to the brim with options, according to your preferences. The only downside being the twenty preloaded applications on the phone. The design of the icons could also, in our opinion, receive a little facelift.
Due to its LCD screen, the Realme X3 SuperZoom incorporates a fingerprint sensor on the power button itself. Its position is therefore easy to remember and its unlocking time is quick. It is a responsive sensor, it only takes a light pressure to unlock the smartphone.
There is also a 2D facial recognition option which works well. And which comes in handy when you just want to take a look at your recent notifications.
Autonomy of Realme X3 SuperZoom
4,200 mAh battery
30W fast charge
A 4200mAh battery powers the Realme X3 SuperZoom. Combined with the optimizations of the Color OS operating system and the efficiency of its processor, we obtain here one of the best autonomy in this price segment and with these specifications. On intensive use including one hour of play, Wi-Fi and data consumption over a whole day, we were able to reach 6 hours without recharging, in 120 Hz mode. Switching to 60 Hz and less intensive use should help you. make it easy to go to the next day.
For fast charging we used Realme's 30W Dart charger, which has already proven itself. This included charger takes the phone from 0 to 100% in about an hour. The loading doesn't really slow down, even during gaming sessions, which is a rare enough thing to be appreciated.
Realme X3 SuperZoom Camera
Quadruple rear camera
Dual selfie camera
The cheapest periscope lens on the market
Realme has made some big statements regarding its first camera focused on photography. Not only does it provide a variety of lenses for all possible uses, but it also democratizes periscope zoom – a rarity even on ultra-premium smartphones. Plus, it comes with an incredible number of shooting modes that will appeal to photography pros and novices alike.
Of course, the star here is this new periscope zoom, which makes its appearance for the first time on a Realme smartphone. This is really a small technical feat, as the light passes through a prism and is reflected 90 degrees inside the smartphone before reaching the sensor. This allows more mirrors to be added to the equation, thus obtaining greater magnification.
To conclude…
There are two ways to justify the price of a smartphone when it goes up: by offering the latest specs available, or by providing a solid user experience even with lower specs. Interestingly, the Realme X3 SuperZoom falls into both of these categories, making it a terrific offering in the mid-range device segment.
It's not without flaws obviously, with a poorly performing camera, a less premium design, and display brightness that will occasionally leave you in the dark. But the advantages here far outweigh the disadvantages, with a fluid interface, a very versatile camera, one of the best autonomy, its charging speed, and a periscope lens that no other phone in its vicinity offers. again. Its performance is up to par and should be able to satisfy a large majority of users.
Can we take a moment to discuss how to choose between two smartphones from the same range? On the one hand, we have a model that ticks all the boxes and doesn't compromise, and on the other hand, we have a camera-centric device that brings an unmatched level of zoom for photography fans.
The Realme X3 series is a good indicator of the health of the current market. Now you don't have to spend huge sums of money on endowing yourself with a 120Hz display, decent camera, and overall enjoyable experience. A glance at its various competitors is enough to reaffirm this position, none of them offering such a high refresh rate, components of this quality as well as such a versatile camera. If you can do without it, you still have a choice between the Xiaomi Mi 9T Pro, Samsung Galaxy A71 and Google Pixel 3a, for example.