In this article, I will show you how to install Whatsapp on Huawei P40 Lite with ease. The new Huawei P40 Lite, presented last month by the Chinese firm, is now available to buy at the Phone House.
It is one of the best mid-range terminals launched in this 2020, which stands out both for power, thanks to its Kirin 810 processor and 6 GB of RAM, and for its extensive photographic section due to the presence of a quad rear camera.
In addition, it has a large 4,200 mAh battery with a fast charge of 40W, one of the fastest so far.
Due to the open war between the United States and Huawei, the Chinese firm cannot incorporate into its new terminals, such as the P40 Lite, Google services and applications (GMS), so we will not have the Google Play Store or have installed Factory tools like Gmail, Drive or YouTube. For this reason, we cannot directly install one of the most demanded applications by any user, such as WhatsApp.
READ: Here's an easy way to install Google Play Store on Huawei
But this does not mean that it cannot be installed, so today we are going to teach you how to have WhatsApp installed simply and safely install WhatsApp on Huawei P40 Lite
Install WhatsApp, even if you don't have the Google Play Store
Although we do not have the Google application store on our Huawei P40 Lite, we do still have a mobile phone with Android 10, so it is possible to have WhatsApp installed.
For this, we will proceed to download it from a well-known page called APKMirror, which boasts of having all kinds of applications for download without containing any type of virus or malware.
From here we will proceed to download from our mobile the WhatsApp Messenger version 2.20.64, clicking on the down arrow that we find on the right.
READ ON: Huawei without Google: what are we really losing?
Next, we will click on the green "See Available Apks" button and select the first option in the list, which corresponds to the most recent version of it. Finally, we only have to click on the Download APK button, so that the process of downloading the application installation file on our mobile device begins.
Once the download is complete, we will review the notification tray to click on the name of the downloaded file so that it runs and thus begins its installation. Once it begins to install and we can only accept all the permissions that the application requires, such as the microphone, camera, calendar, etc.
We must also accept the installation process since the phone recognizes that the file has not been downloaded from Google Play, so it will ask us if we are sure that the installation is carried out since it may contain viruses. But since the download has been made from a secure site, we confirm and continue with the installation.
Once the installation is finished, the WhatsApp icon will appear on the desktop of our mobile, so it only remains to run it to begin the configuration process, which is the same that we must do every time we install the application on a new mobile. In this simple way, we can have WhatsApp working without any problem on the Huawei P40 Lite.
How to install WhatsApp in a Huawei P40 lite Ease: Step 2
WhatsApp is an instant messaging application belonging to Facebook since 2016, it is the most used messaging application in the world, this is why it is very useful to install it on your Huawei P40 lite E.
In this tutorial, we will provide you with instructions to install and configure WhatsApp in P40 lite E in a few minutes and in a few simple steps.
1- First step:
To install WhatsApp in your P40 lite E you have several options, if you Huawei P40 lite E has the application store "Play Store" looks for its icon and clicks on it.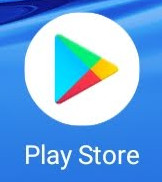 2- Second step:
At the top of the Play Store, there is a search engine, click on it and type "Whatsapp", select "WhatsApp Messenger", click on "Install" or "Get".
3- Third step:
Click on "Accept", perhaps ask for a confirmation to download the application if you are not connected to a Wi-Fi network, because you will receive the data of your tariff which occupies the application. Wait while you install Whatsapp.
4- Fourth step:
Once installed, you will see the "Open" option. If you want, you can return to the home screen of your Huawei P40 lite E, the green WhatsApp icon appears on this screen. If you can't find it, drag it to the right until you find it. Open Whatsapp.
5- Fifth step:
Accept the general conditions of WhatsApp, click on "Accept and continue".
6- Sixth step:
Enter your telephone number, check that the prefix corresponds to your country. You will receive an SMS with this telephone number, so it must be correct and you must have access to this number, if it is the telephone number of your P40 lite E the application will automatically read the SMS and confirm its accuracy, at case you would not have to enter the code received by SMS. Press Ok or Next.
7- Enter your username, the name you want to display for your contacts on WhatsApp. You can also upload a photo to be recognized.
8- Press Continue and you are done, WhatsApp is already installed and configured in your P40 lite E with the operating system Android 9.0 (Pie) (AOSP + HMS), EMUI 9.1. Start writing to your contacts by pressing the + button.
In your P40 lite E you can store WhatsApp photos and videos thanks to its internal memory of 64GB 4GB RAM.
If you need to check the WhatsApp from your P40 lite E wherever you can use the HSPA 42.2 / 5.76 Mbps, LTE-A (2CA) Cat6 400/50 Mbps network connection.
Do you want to install WhatsApp Business on a Huawei P40 lite E?
The procedure is the same, just search for "WhatsApp Business" in your Huawei app store and download it. WhatsApp Business is the corporate version of WhatsApp. Thanks to it, you can talk to your customers via this messaging application. You can have both applications installed on the same P40 lite E device.
Your Huawei P40 lite E does not have Google Play? Alternatives to download WhatsApp.
If your P40 lite E does not have the Google application store, or if you want to download it from alternative stores, you can do so by following the steps below:
You must first activate the installation of applications from unknown sources. To do this, you need to go to Settings, it's the gear icon. Then click on "Security", find the "Unknown origins" or "Unknown sources" section and mark it. We will ask for confirmation, click OK and we have our P40 lite E ready to install apps from other alternative app stores.
We only advise you to install apps from trusted app stores, such as uptodown.com and aptoide.com
HOT DEALS ON AMAZON